---
---
---
Last Update: December 5, 2013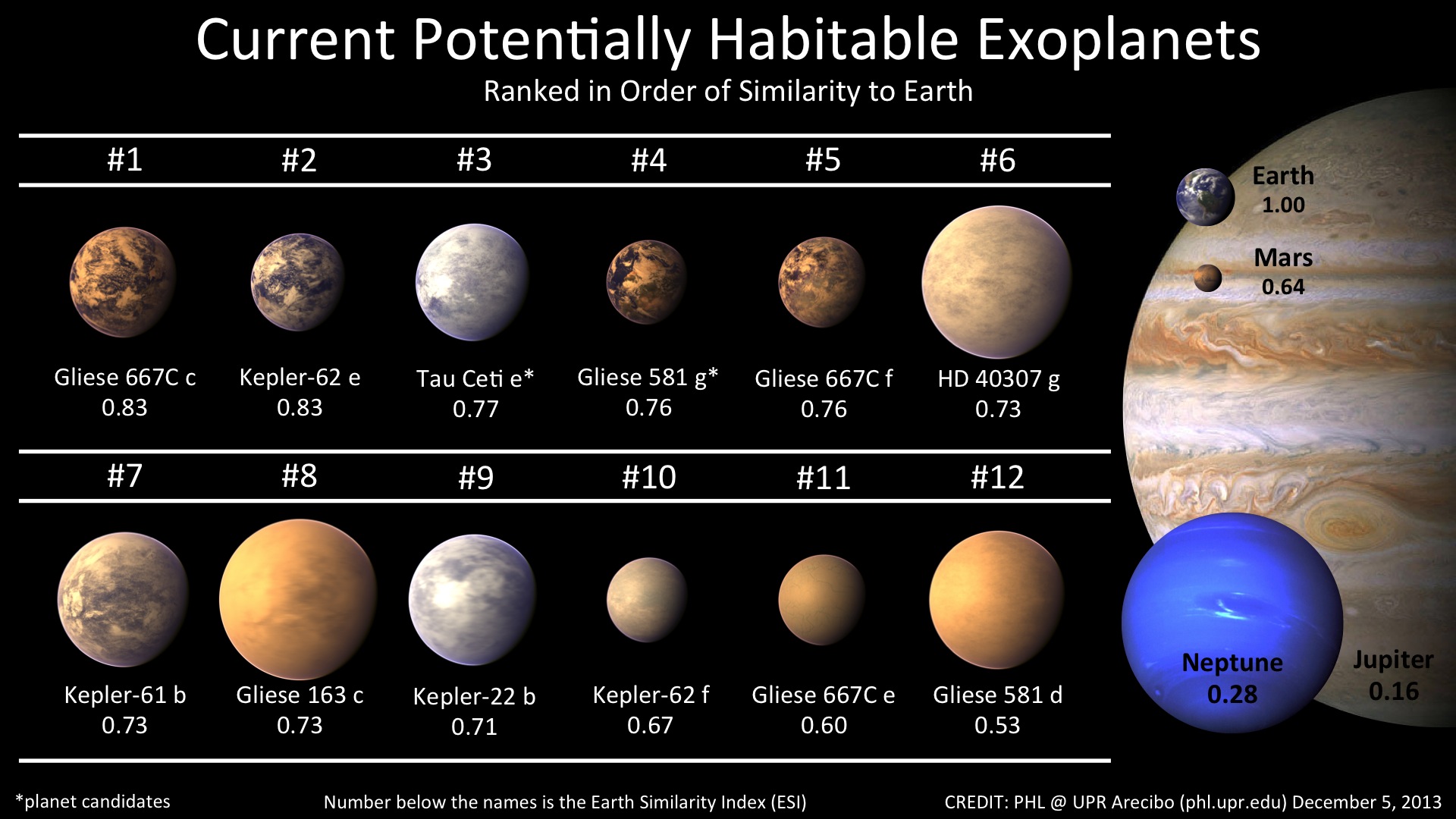 Click image for more details, click here for larger version.
These are artistic representations of the only known planets around other stars (exoplanets) with 
any possibility to support life as we know it
. 
Earth, Mars Jupiter, and Uranus are shown for scale in the 
right side
. 
All are ranked with the 
Earth Similarity Index
 (ESI), a measure of Earth-likeness from zero to one, with a value of one being identical to Earth. In general, any ESI values above 0.5 might indicate an object of interest for simple life, but only those above 0.8 might be more Earth-like and suitable for complex life (i.e. plants and animals). 
Not all planets with high ESI values are necessarily habitable as more information is necessary to correctly assess their potential for life
. This selection of planets are subject to change as new interpretations or astronomical observations are made.

---
All currently known potentially habitable worlds are larger than Earth (superterran) and we are less certain about their composition and habitability. One of the main goals of exoplanets science is to find an Earth-size planet (terran) in the habitable zone. The NASA Kepler mission had identified many superterrans and even one terran candidates, but they need to be confirmed.


Subterran
(Mars-size)
Terran
(Earth-size)
Superterran
(Super-Earth)
Total

0
[ 0 ]
main goal
12
12

Potentially Habitable

NASA Kepler Candidates (2)

0
1
37
38
| | | |
| --- | --- | --- |
| Confirmed Exoplanets (3) | NASA Kepler Candidates (4) | Other Unconfirmed Exoplanets (3) |
| 1,050 | 3,602 | 195 |
Notes
---
(1) Number based on confirmed exoplanets but includes three unconfirmed ones (see image above for details).
(2) Number based on the NASA Kepler exoplanet candidates waiting for confirmation (some already confirmed).
(3) Confirmed and unconfirmed exoplanets are those listed by the
Extrasolar Planets Encyclopedia
 plus any recent corrections.
---


Relative Distance with Respect to the Habitable Zone
---
These images show the relative distance of each potentially habitable exoplanet with respect to its parent star empirical habitable zone. Starting with our Sun, the location of Earth and Mars are shown in each plot for comparison. Note that Earth is not at the center of the Sun's habitable zone. Any planet close to the inner edge risk being a super-Venus while a frozen world closer to the outer edge. These images are available as a single poster
here
.







Notes:
Nearby stellar systems are defined as those closer than 100 light years. 
The horizontal axis is the
Habitable Zone Distance (HZD)
, which is better than stellar flux to compare the habitable zone distributions. Star and planets are not to scale with each other.

---
Frequency, Distance, and Probability of Earth-like Planets Around M-dwarf Stars
---
The recent study of 
Kopparapu (2013)
 used the NASA Kepler data to 
estimate 
that 48% of the M-dwarf stars have an Earth-like planet. This implies that the closest Earth-like planet to Earth is about 6.4 light years away and that there is a 94% probability for an Earth-like planet within 10 light years from Earth. These numbers do not consider planets around other types of stars. 
More details here.

Definitions: 
An Earth-like planet is a 
0.5 to 1.4 Earth radii 
planet orbiting within the habitable zone of the star. 
η 
Earth
 (Eta Earth) is the stellar frequency of Earth-like planets. 
δ
Earth
 (Delta Earth) is the mean distance between Earth-like planets. 
p10
Earth
 is the probability of an Earth-like planet within 10 light years from Earth.
---

Travel to the Exoplanets from Home