---
---
Last Update: November 28, 2014
---
The Habitable Exoplanets Catalog will be updated on Friday, December 5th, 2014 @ 8 AM EST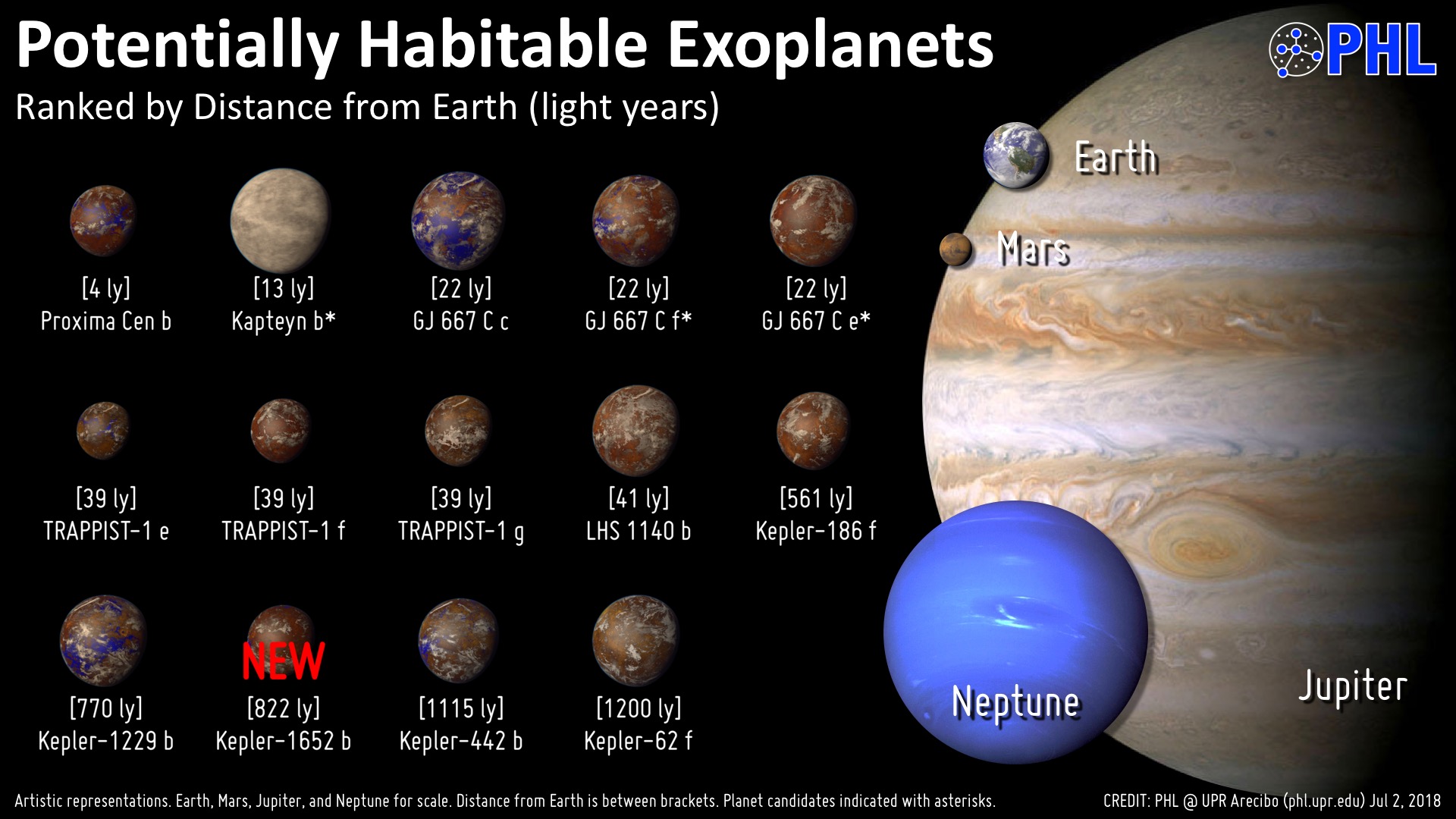 Click image for more details, or click
here
for larger version.
These are artistic representations of all the planets around other stars (exoplanets) with any potential to support surface life as we know it. Most of them are larger than Earth and we are not certain about their composition and habitability. They are ranked here from closest to farthest from Earth. This selection of objects of interest is subject to change as new interpretations or astronomical observations are made. Earth, Mars, Jupiter, and Neptune are shown for scale on the right.

Distribution of Potentially Habitable Exoplanets
Database Source
Subterran
(Mars-size)
Terran
(Earth-size)
Superterran
(Super-Earth)
Total


Habitable Exoplanets Catalog (1)

0
1
20
21

NASA Kepler Candidates (2)

2
8
80
90
All Known Exoplanets
| | |
| --- | --- |
| Confirmed Exoplanets (3) | NASA Kepler Candidates (4) |
| 1,855 | 4,184 |
Table Notes
---
The database of the Habitable Exoplanets Catalog (HEC) includes both confirmed and unconfirmed exoplanets. 

Estimates based on the NASA Kepler Candidates, but some already confirmed and included in HEC.

Confirmed planets listed by the PHL's Exoplanet Catalog. Check here for comparisons with other exoplanet databases.

Most of

NASA Kepler Candidates

are still unconfirmed exoplanets.
---
Recommended Resources
---


Explore Exoplanets from Home