Last Update: December 5, 2013
---
Habitable Zone Plots
---
These plots show the 
mass
distribution of confirmed exoplanets with respect to the optimistic habitable zone (green shaded area). Those potentially habitable (i.e. in the HZ and with masses between 0.1 to 10 Earth masses) are enclosed and labeled within a red box. The habitable zone distance (HZD) plot is better to illustrate the habitable zone limits 
since stellar flux also depend on the star temperature. Mass was estimated from an empirical mass-radius relationship when not available.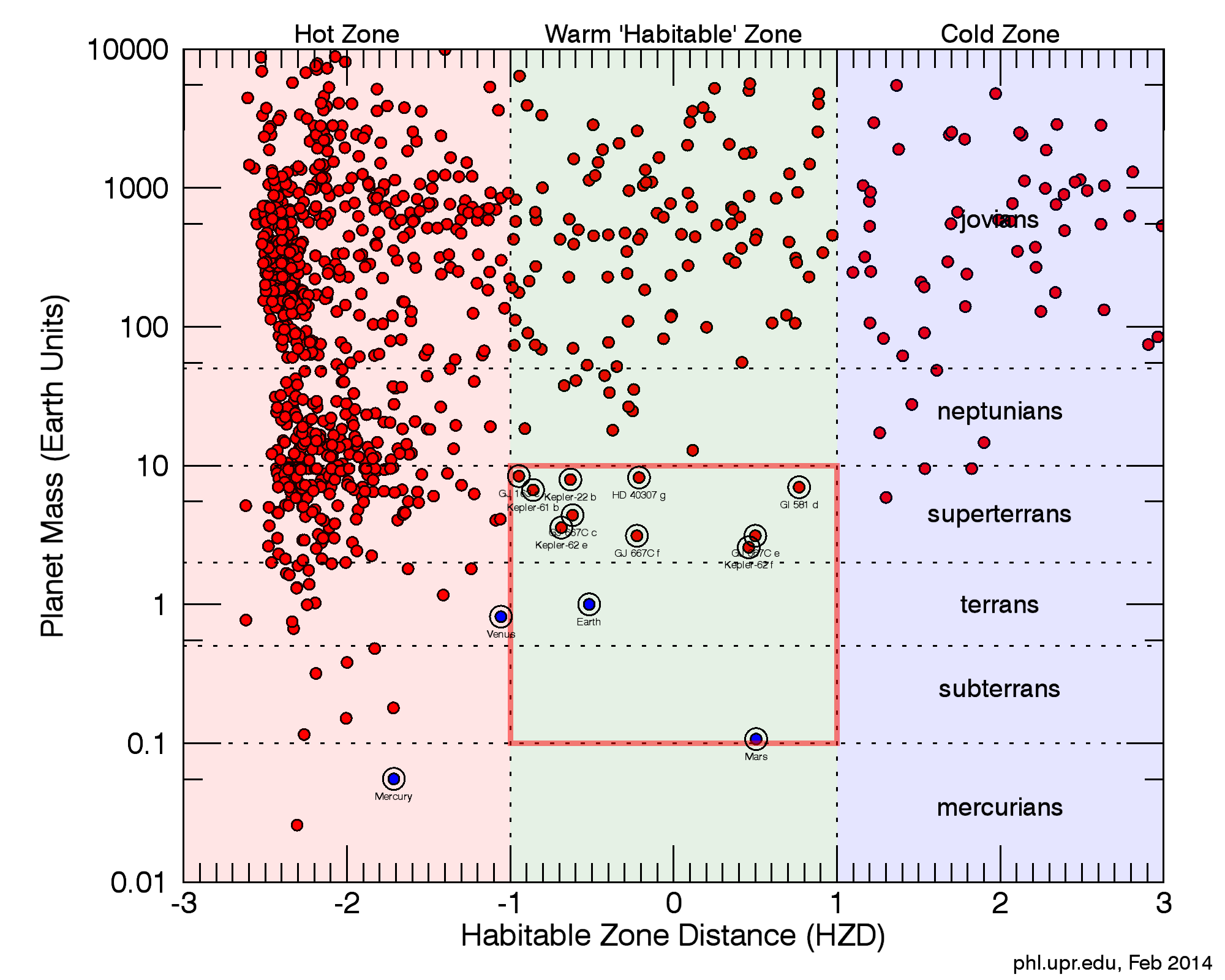 Planet mass vs habitable zone distance (HZD) for confirmed exoplanets. The planets beyond HZD > 3 (including the gas giants of the Solar System) are out of the scale. A similar plot but for planet radius up to 10 Earth radii is available
here
.
Planet mass vs stellar flux for confirmed exoplanets. The shown limits of the habitable zone correspond to those of a Sun-like star (0.29 to 1.78 solar units).
Star Map of the Habitable Universe
---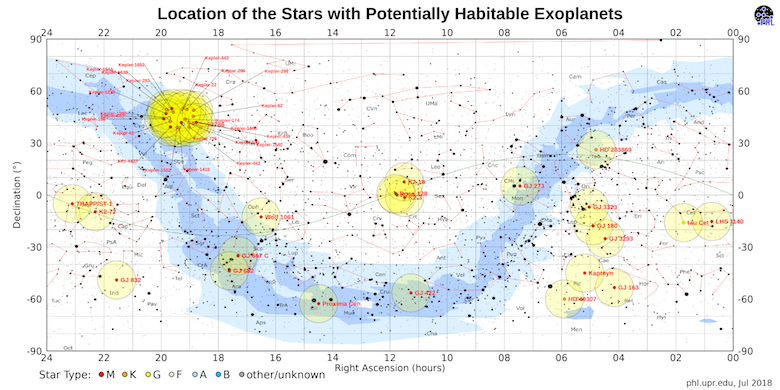 Location in the night sky of the stars with potential habitable exoplanets (colored circles). There are two in Gliese 581. Click the image for larger version. Here are also maps for all exoplanets including only those visible to the naked eye. CREDIT: PHL @ UPR Arecibo and Jim Cornmell.
The Periodic Table of Exoplanets
---
The Periodic Table of Exoplanets shows all confirmed or NASA Kepler exoplanets classified into eighteen thermal-mass categories. The number of exoplanets in each category is shown in the center of each frame and as a percent in the lower left. The number of those already confirmed in the NASA Kepler Candidates are shown in the lower right. The diagram also shows the number of multiple stellar systems in each case (top right). M
E
 = Earth masses and 
R
E
 = Earth radii.
 More details about the tables are available 
here
.